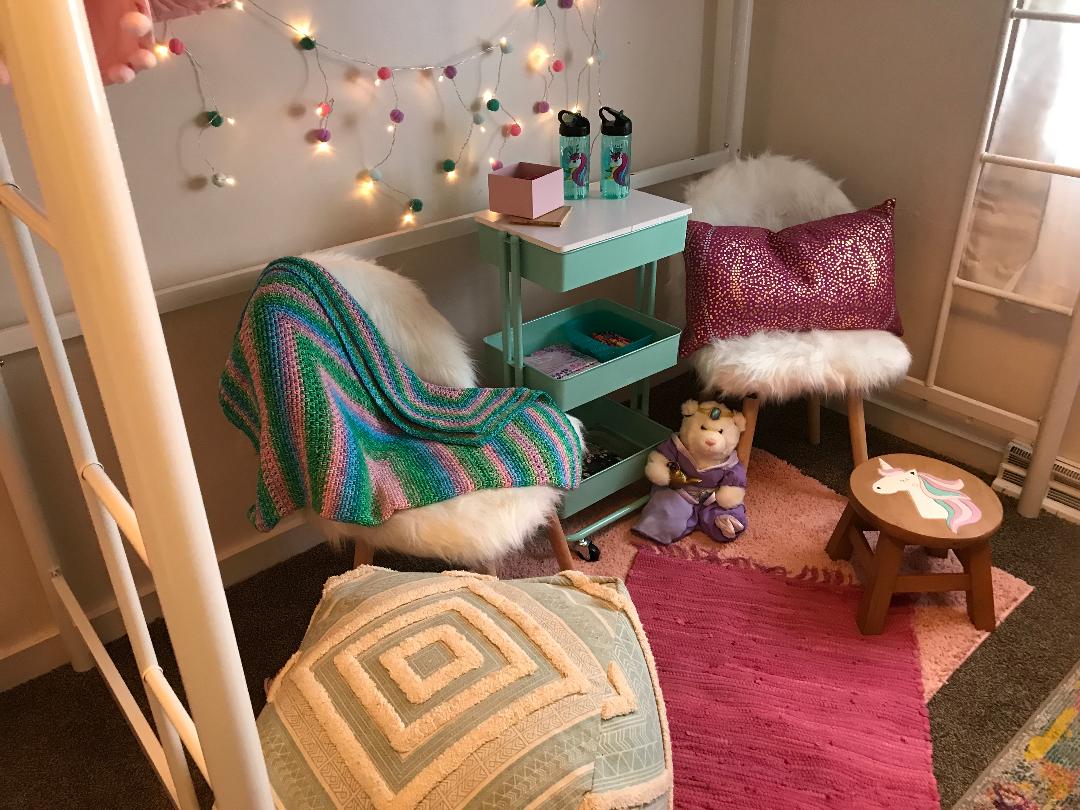 Bedroom Makeover Ministry
Table of Grace's Bedroom Makeover Ministry
for Children Living With Inadequate Sleeping Conditions
Table of Grace is a United Methodist Community in the city of Erie that is committed to inner city ministry.
Table of Grace started a NEW Ministry in 2019. We all know how important good sleep is to all of us, but especially to growing children. This ministry is to help children in poverty that do not have even minimally adequate bedroom accommodations. There are children living in our city that do not have a bed to sleep on, sheets and blankets to keep them warm, a pillow for their head, or even curtains on the window. Table of Grace wants to help address this problem with bedroom make-overs for these children. Each child's room has a budget of approximately $1,500. The first bedroom make-over was completed on a cold day in February, but by the end of the day all hearts were warmed.
Although our congregation is small we had two teams that worked all day to provide both a bedroom makeover as well as a fun day for the little girl who was the recipient of the makeover and her mom.
The makeover team arrived at the home at 8:30 a.m. The room was designed by a young mother from the Table of Grace congregation who graduated with an interior design degree. The team painted all the bedroom walls, put up curtains on the windows, assembled a new bed, dresser, and night stand, laid an area rug, put up wall décor, put on new bed sheets and comforter, provided new pajamas and slippers as well as a few other pieces of clothing and books. A small desk and colorful lamp were provided to give her a space to complete school work. The congregation is hopeful this ministry will not only give children a comfy, cozy bedroom space but also will help us develop relationships with families in need and lead them to become part of a nurturing faith community.
Meanwhile, there was a team of children, youth, and adults at the church building to greet the child and mother. They all participated in games, crafts, story time, and cookie baking for the morning. After serving a lunch, the group went to the Erie Children's Museum for the afternoon.
When the child arrived home to see her new room she burst into the house and announced that she had made a lot of new friends. She was very excited as she explored her new room and told the workers that they "Popped her head off" with the new room. Her parent said that translated to "blew her mind".
As we continue this ministry we are hoping that better sleep can be a reality for even more impoverished children in our city. As of November of 2021 Table of Grace has completed 12 bedrooms for a total of 14 children, and provided help to a foster family and a family who was being reunited out of the foster care system.
"You didn't just give my nieces new bedrooms, you gave them hope!" - Aunt of Children's Bedroom Makeover Recipents