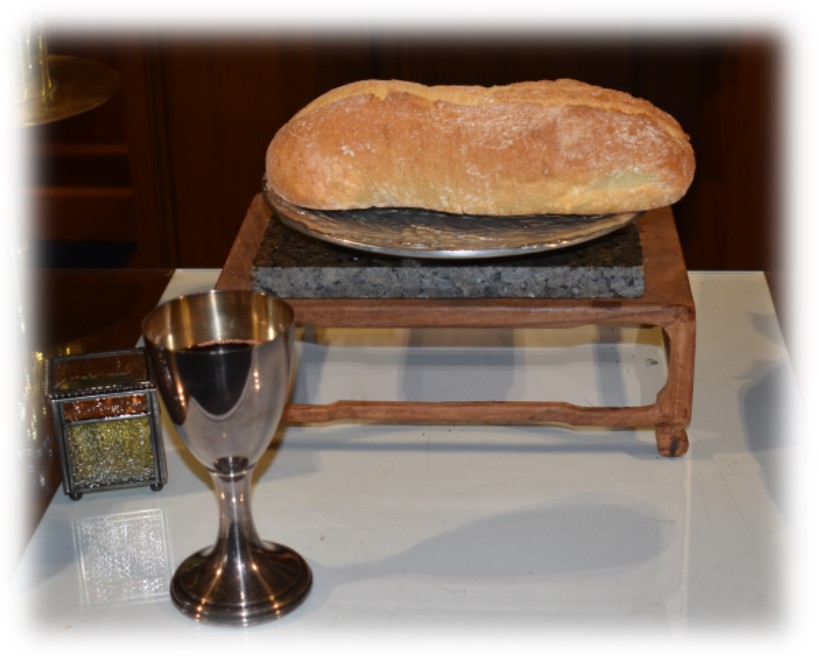 Home
Table of Grace
Church
2113 Sassafras St.
Erie, Pa. 16502
Pastor Donnie
Blystone
Sunday Service
January 23, 2022
Beginning 10:00 a.m.
See us on
Facebook
January 16, 2022
Dear Church Family,​​​​​​​
On this cold, clear Sunday morning, twenty-one of us gathered to worship in person at Table of Grace. Angie shared our announcements, led the Call to Worship, and read scripture verses from Job 22:27 and Romans 8:26-27.
During the Children's Chat, Donnie talked to the kids about prayer. He told them that we can talk to God about everything! When we can't fall asleep, we can tell God about our day, what makes us feel worried, or what we need. We can talk to God using the same words that we use when we talk to our family and friends. God always listens and loves it when we talk to him. In his sermon on prayer, Donnie referred us to Philippians 4:6-7, "Don't worry about anything; instead, pray about everything. Tell God what you need, and thank him for all he has done. Then you will experience God's peace, which exceeds anything we can understand, His peace will guard your hearts and minds as you live in Christ Jesus." faith community. The entire worship service can be viewed on Facebook, by searching Table of Grace UMC and scrolling down to the video for January 16. Please remember that you can send your prayer requests to TOGprayer@gmail.com or contact me at 814-873-0451. We are happy to pray for you and your loved ones.
I thanked Donnie for his meaningful message on prayer, especially his reminder to pray for those who love and support those for whom the prayers are requested.
I offered thanks and praise to God for the very excellent Jobs for Life CORE training that several of us attended Friday evening and Saturday. It was a Zoom meeting and included participants from Texas, California, Florida, New Jersey, Hong Kong – in addition to the nine of us from Erie, PA. It is so exciting that we are preparing to launch our first Jobs for Life in just one month from now. Please pray for our local leaders, the National Jobs for Life leaders, and our perspective students. The 8-week classes are about so more than helping people find jobs. It's about transforming lives through Jesus Christ and building healthy relationships with God, self, and community.
Please pray for Larry's new ministry "Hoodies for the Homeless". (See the announcements below).
Barb asked for prayers for Rob Hiles who has COVID pneumonia and is in ICU fighting for his life. He and his family were connected to Simpson Church years ago.
Nancy asked for prayers for Sam, who was not able to be with us today.
Nancy also asked for continued prayers for Courtney who has undergone radical breast cancer surgery. Praise God that she is beginning her recovery and is in good spirits.
Helen asked for prayers for her daughter, Heather, who is scheduled to have back surgery on February 1. Please pray that the surgery is not postponed, that it is successful, and that Heather makes a full recovery.
I asked for prayers for the family of my high school classmate, Rick McCauley, who passed away.
Larry asked for prayers of comfort for the family and friends of James, who completed the Salvation Army Adult Recovery Program, and has passed away. Larry asked that we pray for many in our community who are still trapped in addiction.
Please pray for all foster children going through confusing changes.
We offer thanks and praise to God that those taken hostage in a Temple in Texas were released unharmed. May God's hand of comfort and strength be on all who were impacted.
Please pray for all who are in the path of extreme weather. May God keep everyone safe.
Please remember to pray for those who are isolated in long-term care and other settings. Please let them know they are not forgotten. Thank you to Mary Alice for putting out greeting cards for us to sign.
Please remember to lift up the unspoken prayers as you pray. There are many serious concerns in the hearts of our church family that remain unspoken, and God knows what is needed.
Announcements:
Alcoholic Anonymous will meet Tuesday evening at 7:30 in the Fellowship Hall. All are welcome.
Bible Study will meet this Wednesday at 5:30 p.m. We will be discussing Hebrews 9. Following Bible Study, there will be an Ad Council meeting at 6:45.
Next Sunday after worship, we will prepare bag lunches for our guests at the Upper Room. Please stay after and help assemble lunches if you are able. Cookie donations are appreciated.​​​​​​​​​​​​​​

Have a Blessed Week
Brenda
​​​​​​​