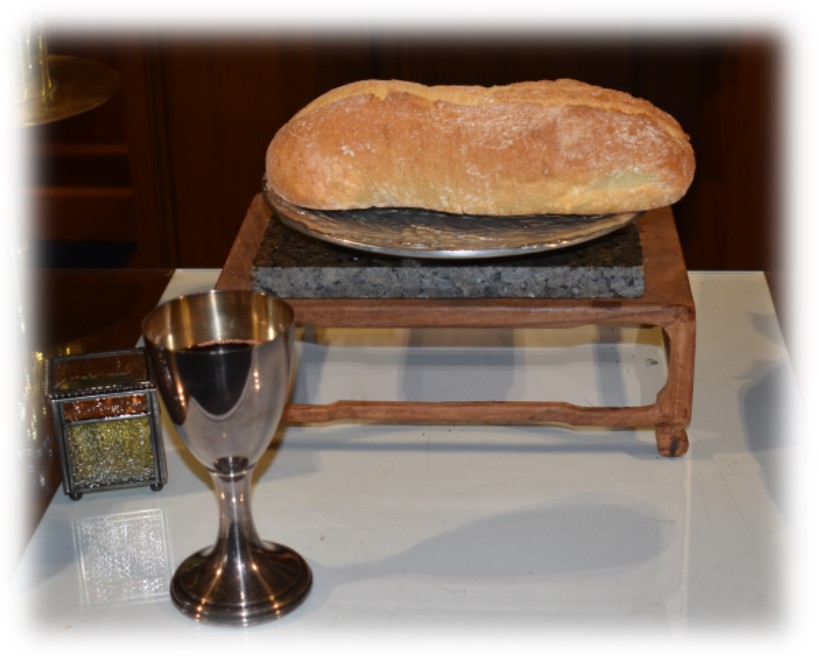 Home
On the Menu

at

Table of Grace

Sunday School

All Ages Every Sunday 9:30 AM
Worship
Every Sunday at 11:00 AM
Bible Study - Wednesdays
at 4:30 PM and 6:00 PM
Celebrate Recovery!
Addiction Ministry
Wednesdays at 6:00
Choir Practice -
Wednesdays at 7:00 PM

Bedroom Makeover Ministry
Meeting
Tuesday, January 8th
7:00 PM
Sunday
January 13, 2019
WorshipNOW
9:00 AM
Fellowship Hall
For Sunday, February 10, 2019

Our worship and praise was even more energized this morning following the successful completion of our first bedroom make-over yesterday. At both services, we enjoyed slides that started with the work crew leaving the church at 7:30 a.m., to the arrival of Hailey and her mom, Stephanie, at Table of Grace to enjoy a day of fun, fellowship, and food, with her new friends. We watched Hailey's bedroom transform into a cozy, colorful space artfully designed by our own Kelsey Willats to incorporate all of Hailey's favorites. Stephanie sent a picture last night of Hailey snuggling down in her new bed, along with a message of sincere thanks to everyone at Table of Grace. (Look for the photos on Facebook). WorshipNOW began with delicious breakfast pizza at 9:15 in the fellowship hall. Jim and Hillary led our praise singing and Nancy offered a beautiful morning prayer. We watched a short video YouTube video by Chad Prather on the value of a $20.00 bill. It reminded us that "an authority higher than ourselves gave us our value" and nothing can take that away. During the first part of the message, Mary Alice, told us that we can't put a cash value on our worth as humans (our lives, souls, essence, being). In answer to the question, "what are we worth?", she referred us to Psalm 8, where David writes, "What is mankind that you are mindful of them? You have made them a little lower than the angels." (vs. 4-5) In all the majestic grandeur of His creation, God put everything under our feet. "We are fearfully and wonderfully made" in God's image. Mary Alice clarified that God is spirit, and the fruit of God's spirit is "love, joy, peace, patience, kindness, goodness, faithfulness, gentleness, and self-control." (Galatians 5:22-3). We are the spiritual image of God and, from Him, have the capacity to demonstrate these good spiritual fruits. As our faith grows and matures, the more our image reflects His. Mary Alice closed by reminding us of Jesus' final prayer for us in the Garden of Gethsemane, "I do not ask on behalf of these alone (his disciples), but for those also who believe in Me through their word." (John 17). She urged us to remember that the world knows God based on how believers represent Jesus every day. Next, we enjoyed an entertaining skit (Hashtag Wonderfully Made), in which the "At Symbol @" (Barb Warner) asks God (Rick Durst) to change her into the more popular "Hashtag #". The skit's message is this: God has given each of us unique gifts that are important and useful as we work together to be the body of Christ. In the second part of the message, Jim admitted that, like all people, he feels inadequate when things don't go as planned in spite of his best efforts. When that happens, we need to read scriptures and talk with God. In Luke 12, Jesus assures us that God knows us intimately (including the number of hairs on our head). He cares for the smallest, most insignificant creatures in his world. Are we not even more valuable to Him (Matthew 6)? Jim gave us a mini-lesson on potential and kinetic energy. Potential energy is stored energy, like a coiled spring or a boulder resting at the edge of a cliff. Kinetic energy is energy in motion, like a speeding vehicle hitting a telephone pole. He asked us to think about a tiny pebble from a gravel driveway. Surely, that pebble would not be missed if it were taken away. But, what if that pebble got into your shoe? It's no longer unimportant! If you take out the pebble and throw it into a pond, it creates a ripple effect in the water. Jim said that each one of us has potential energy, and we are poised to become energy in motion. We have unlimited potential to do the work for God's kingdom. He shared Paul's words from 1 Corinthians 12, which tell us that we are a part of one body (Christ's) that has many members. We are all valuable and have great worth as the body of Christ. Jim said, "There is no greater worth than to touch the life of someone in the name of Christ." Our 11:00 worship service began with a beautiful prelude performed by Ann. Laura shared the announcements, led our liturgy and read from Hebrews 11: 1,6. Laura invited Cathy and Kelsey to come forward and give us a summary of yesterday's bedroom make-over. During the Children's Chat, Donnie talked with the kids about what they might be when they grow up. He assured them that God has a very special purpose for them and they will recognize it because they will love what they do. Ann, Jim, and our choir performed a beautiful anthem, which featured a solo part by Barb. Donnie began his message, "Shield of Faith" by reviewing his purpose for the sermon series on the full armor of God. He explained that whenever we energetically do the work God has for us, the Enemy will try to interfere (spiritual warfare). Donnie recalled the story of Elisha and his servant, who were surrounded and outnumbered by the army of Aram. The servant, certain that they were about to die, asked Elisha what to do. "And Elisha prayed, 'Open his eyes, Lord, so that he may see.' Then the Lord opened the servant's eyes, and he looked and saw the hills full of horses and chariots of fire all around Elisha." (2 Kings 6:17). And the Lord struck the Arameans with blindness. Donnie said that faith is seeing a situation that we can't fix or handle and trusting God to intervene. Laura read Hebrews 11:1, "Now faith is confidence in what we hope for and assurance about what we do not see." Donnie told us that we each us have a small portion of intrinsic faith. We can't grow that faith by ourselves. In Ephesians 2:8, Paul writes, "For it is by grace you have been saved, through faith – and it is not from yourselves, it is the gift of God." Hebrews 11:6 tells us that we can't please God without faith. We must believe He exists and He will reward everyone who seeks Him earnestly. Donnie conceded that sometimes things happen that shake our faith (loss of a loved one, broken relationships, serious illness, addiction, financial ruin). When those things happen, our faith is all we have left. God always knows what to do. When we reach the point where we can't handle things on our own, we need to trust God. We need to pray for Him to reveal the answer and for His help in understanding. Following worship, we had a brief Administrative Council/congregational meeting to consider a recommendation from the worship committee to move the Sunday worship service from 11:00 a.m. to 10:00 a.m. The motion was approved.

The following prayer requests were made:
Prayer for a family member with a probable blood cancer and for the family supporting her.

Janet offered a prayer of thanks for her mother, who would have celebrated her 104th birthday today.

Prayer of thanks for a neighbor who was facing surgery, but is showing improvement.

Prayers for memb ers at Elmwood who are quarantined because of flu.

A prayer of joy that another great grandchild is on the way.

Prayers of comfort, strength, and healing for the grandmother of our bedroom makeover receipient who was just diagnosed with cancer.

Larry offered thanks for prayers for him last weekend. He had an amazing experience at his Koinonia retreat.
.

Cathy offered a prayer of thanks for everyone involved in the bedroom make-over yesterday.
ers over the weekend.

Traveling mercies

Thanks for laser eye surgery that helped vision.

Laura offered thanks for an amazing Saturday and for the chance to see the love of God through the eyes of a child .

Prayers for a member who will have the battery in his pacemaker surgically replaced on Tuesday.

A prayer of thanks for the entire Table of Grace church family, who support ministries with their love, prayers, and presence.

Please pray for John and Christine Zimmerman, who will be joining us in April to help us engage in relational ministry with our community. May God's Spirit lead us as we seek to
lead us as we seek to bring the love of Christ to our community.

Please pray for the ministries of Table of Grace, San Juan, Henderson, Kingsley, and Glenwood.

We would be happy to pray for your concerns, please go to the tab marked prayer request and send us the request.