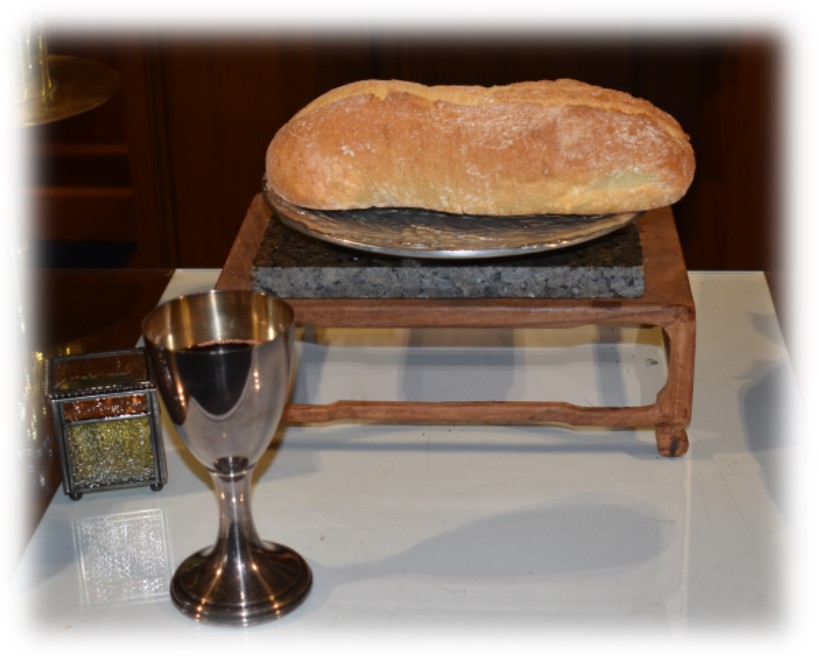 Home
Table of Grace
Church
2113 Sassafras St.
Erie, Pa. 16502
Pastor Donnie
Blystone
Sunday Service
May 29, 2022
Beginning 10:00 a.m.
See us on
Facebook
May 22, 2022
Dear Church Family,​​​​​​​
On this fourth Sunday in May, twenty-four of us gathered to worship in-person at Table of Grace. Larry shared the announcements, led our Call to Worship, and read a scripture passage from Acts 1:1-3. The apostle Luke wrote, "In my former book, Theophilus, I wrote about all that Jesus began to do and to teach until the day he was taken up to heaven, after giving instructions through the Holy Spirit to the apostles he had chosen. After his suffering, he presented himself to them and gave many convincing proofs that he was alive. He appeared to them over a period of forty days and spoke about the kingdom of God." During the Children's message, Donnie explained that there are many things that we can't do by ourselves, especially when we are little. God will always send us help to do the jobs he has for us to do. In his sermon, Donnie focused on the number 40, which often appears in the bible to designate a time period for preparation for a new undertaking, or a time of repentance/experiencing the consequences of sin. It is a time of waiting for guidance from the Holy Spirit. It was 40 days between Jesus' resurrection and his final ascension into heaven. Cheryl wrote a beautifully powerful song which was sung by Jim following the message. She titled it "Where is Jesus?", and it expresses the thoughts and feelings of His disciples during that time period. The entire worship service can be viewed on Facebook, by searching Table of Grace UMC and scrolling down to the video for May 22. Please remember that you can send your prayer requests to
TOGprayer@gmail.com
or contact me at 814-873-0451. We are happy to pray for you and your loved ones.
Prayer Requests:
I offered thanks and praise to God for Donnie and Cheryl, who, together, brought us a deeply inspiring message today.
Mark asked for continued prayers for his girlfriend, MaryAnn, who was transferred from St. Vincent to LECOM skilled care (former Luther Square). Please pray for her recovery and for difficult housing decisions that may need to be made when she is ready to be discharged to home.
Kristy asked for prayers for her friend and co-worker, Jen, who lost her mom recently. Presently, Jen's father is in skilled care and not doing very well. Please pray for God's comfort, strength, and healing for Jen's family.
I ask for your prayers for my cousin's husband, Gary, who has struggled with chronic health problems most of his adult life. Now, it is believed that he has Parkinson's Disease, along with a mass on his neck. They spend winters in Florida and have returned to PA. Unfortunately, there is a shortage of neurologists in Erie right now, so he may need to go to Pittsburgh for care. Please pray for God's healing and guidance for Gary and Linda.
Mary Alice asked for prayers of comfort for Helen, who was not feeling well today.
Hillary asked for prayers of healing and comfort for Abby, who had foot surgery and is very uncomfortable.
Thanks to everyone who helped with the meal at the Upper Room this afternoon (Barb, Mary Alice, Cathy, Stan, Larry, Nate, Angie, Rick, Brenda). For the first time in over two years, we were able to serve a hot meal in the fellowship hall at St. Paul's. We served about fifty guests, who especially enjoyed the sausage sandwiches. The sausage (from Larry's Central Market) was won by some of our church members at the Sisters of St. Joseph Gala. We pray for God's blessing on all our guests and workers, and are thankful for Barb's leadership in this ministry.
Please pray for Wesley Woods Camp, which is experiencing some financial challenges that may affect programming for the campers.
Announcements:
Alcoholics Anonymous will meet Tuesday evening at 7:30 in the Fellowship Hall. All are welcome.
Bible study resumes this week on THURSDAY, at 5:30. Nancy will lead us in studying the first chapter of Matthew.
On Thursday, following bible study, there will be a meeting to plan the next golf outing fundraiser for the Bedroom Makeover ministry.
This afternoon, there was a meeting of the Erie-Meadville District at Asbury UMC.
Yesterday, there were fewer walkers for Walk for the Woods at Wesley Woods. Everyone is encouraged to still get sponsors and do the walk at a convenient time and place. Donations will be received through the first week in June. Please make any checks payable to WESLEY WOODS.
Have a blessed week! Brenda