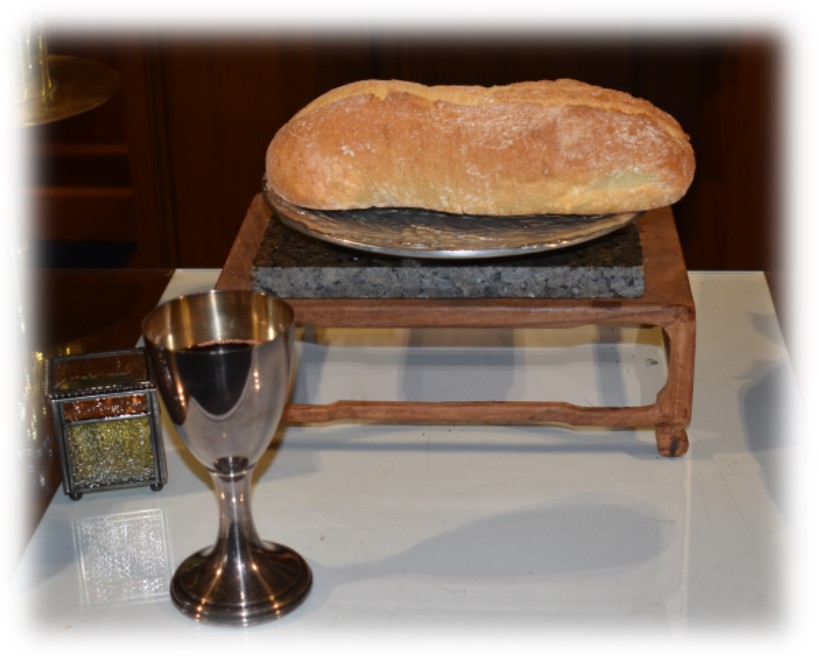 Home
Table of Grace
Church
2113 Sassafras St.
Erie, Pa. 16502
Pastor Donnie
Blystone
Sunday Service
October 24, 2021
Beginning 10:00 a.m.
See us on
Facebook
October 17, 2021
Dear Church Family,​​​​​​​
It was a special blessing for twenty-eight of us to worship together at Table of Grace, and to see and talk with members of our church family that we have been missing. Sam shared our announcements, led our Call to Worship, and read scripture verses from Psalm 32:1-5 and James 5:16. In verse 5 David wrote, "Then I acknowledged my sin to you and did not cover up my iniquity. I said, 'I will confess my transgressions to the Lord.' And you forgave my guilt." And in James 5:16, it says, "Therefore confess your sins to each other and pray for each other so that you may be healed. The prayer of a righteous person is powerful and effective." Donnie continued his sermon series on "Why do you want to go to church?"
The previous messages focused on these answers: because I expect God to speak to me; so I can have unity with other believers; so I can offer prayers of supplication; so I can learn and worship through music. Today's message was about confession and the healing power of forgiveness. The entire worship service can be found on Facebook (search Table of Grace UMC). Please remember that you can send your prayer requests to
TOGprayer@gmail.com
or text/call me at 814-873-0451. We are happy to pray for you and your loved ones.
Prayer Requests:
We offered thanks and praise for Donnie, his extraordinary message today, and how God has gifted him to teach and lead us in worship.
It was a joy to welcome back Janet and Tom. We continue to pray for Janet's healing. We were blessed to have Ann back with us today, and we continue to pray for her daughter-in-law Brandi, for physical healing and comfort in grief.
We were so pleased to have Eric back with us this morning.
I offered birthday blessings for Angie this Thursday.
We give thanks and praise for our tech team who work so diligently and overcome many obstacles so that our worship service can be streamed to Facebook and uploaded on YouTube. We give thanks for Cheryl and her amazing music ministry. Today we learned a praise song that Cheryl recently wrote: "You, O Lord are a Gracious God".
We continue to lift up Nancy's friend, Dan, in Georgia, who suffered serious complications after surgery. We pray for his healing, strength, and comfort.
I asked for prayers for the mother of one of Ava's good friends. Renee is hospitalized with extremely serious kidney problems and needs urgent prayers for a miracle of healing.
I also asked for prayers of healing and comfort for Boone, who is hospitalized with serious kidney problems. He is the step-grandfather of our great grandson, Julian (Angie's grandson), who celebrated his second birthday this weekend.
Please continue to pray for healing for Katie, who is still recovering from a broken clavicle.
Helen asked for prayers for the family of her friend, Jean, whose funeral was last Thursday. We pray for God's comfort for Helen and for Jean's family. Helen also asked for traveling mercies for her daughter, Wendy, and her husband who are flying to Erie from Washington state. May God bless their time together.
Please pray for traveling mercies for Marilyn who is returning to Florida this week. We pray for safe travel and a healthy winter for Marilyn.
Please pray for Barb and Jillian who are returning from a visit with Kelsey today.
We offer thanks for Larry and his ministry. He had asked for prayers for Chris at the Lodge in Corry, earlier this week. Larry and Chris were able to worship with us on Facebook this morning. We pray for God's strength and grace for Chris as he continues his journey.
I asked everyone to stop and reflect/remember all the answered prayers this week. It is comforting to remember all the times God has heard and answered our prayers.
Please remember to add your prayers to all those that remain unspoken in the hearts of our church family.
Please pray for the American missionaries in Haiti who were kidnapped by gang members over the weekend. Please pray for persecuted Christians everywhere.
Announcements:
Alcoholics Anonymous will meet on Tuesday at 7:30 p.m. in the Fellowship Hall downstairs. Everyone is welcome.
Bible Study will meet on Wednesday at 5:30 in the evening in the patio. Nancy will lead our discussion of 2 Timothy. Please join us for a fascinating and relevant discussion!
Next Sunday after worship we will be preparing lunch for guests at the Upper Room. Please stay after worship and help us assemble the lunches. Cookie donations are appreciated. Thanks to Barb for organizing this outreach ministry.
Operation Christmas Child shoe boxes and information are on the stage. The wrapped boxes containing gifts for children around the world are due back on Sunday, November 14. Please see Mary Alice if you have questions or need her to shop for you.
​​​​​​​
Have a Blessed Week, Brenda

​​​​​​​