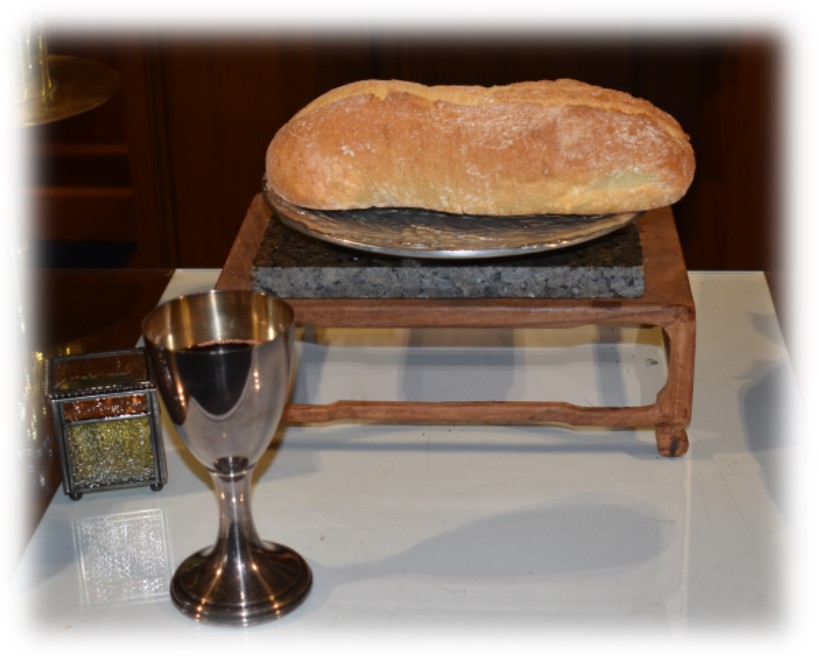 Home
Church
2113 Sassafras St.
Erie, Pa. 16502
Pastor Donnie
Blystone
Sunday Service
June 26, 2022
Beginning 10:00 a.m.
See us on
Facebook
July 3, 2022
Dear Church Family,​​​​​​​
This morning, twenty-six of us worshiped in person at Table of Grace. I shared the announcements, led our call to worship, and read scripture verses from Isaiah 55: 6-9.
The prophet wrote, "Seek the Lord while you can find him. Call on him now while he is near. Let the wicked change their ways and banish the very thought of doing wrong. Let them turn to the Lord that he may have mercy on them. Yes, turn to our God, for he will forgive generously. 'My thoughts are nothing like your thoughts,' says the Lord. 'And my ways are far beyond anything you could imagine. For just as the heavens are higher than the earth, so my ways are higher than your ways and my thoughts higher than your thoughts.'" In his message, Donnie urged us to leverage our gifts and life experiences for God. He stressed the importance of trying to understand and use God's viewpoint to guide our lives. Following the message, we shared in the sacrament of Holy Communion. The entire worship service can be viewed on Facebook, by searching Table of Grace UMC and scrolling down to the video for July 3. The sermon only can be found on YouTube using the link below, and on our website:
tableofgrace.net
. Please remember that you can send your prayer requests to
TOGprayer@gmail.com
or contact me at 814-873-0451. We are happy to pray for you and your loved ones.
Prayer Requests:
I thanked Donnie for reminding us to always seek God's perspective, especially when making important decisions.
Please continue to pray for Scott, as his doctors try to map out a plan of treatment. We are praying for a good outcome for Scott.
We are continuing to pray for healing and recovery for Mary Adams, who is hospitalized with double pneumonia and COVID.
It was so good to see Marilyn this morning. She has a doctor's appointment this week to investigate some health symptoms. Please pray for healing and a good outcome for Marilyn.
Please pray for Mark, who is dealing with several difficult issues. Please pray for comfort and strength for Mark.
Please pray for the young man, who came to our church after worship last Sunday, seeking help. Nate, Mike, Donnie, and Jim, met with him to try to determine his needs and then transported him to Crisis Intervention Services. We are praying that he is getting the help that he needs, and that God is directing his recovery.
We continue to pray for God's comfort and strength for the Jaruszewicz family as they mourn the loss of Pam.
We are praying for God's comfort for Laura and her mother, Barbara, as they grieve the loss of Laura's dad.
We continue to pray for Phyllis and the family of Veronica, Phyllis' good friend and long-time golf partner.
Barb asked for prayers of comfort for the family of Eileen Becker, who lost her battle with brain cancer. She was from Erie, but was living in Tucson when she passed away.
Kristy asked for prayers of comfort for her friend, Jen, who lost her dad after an extended illness.
Phyllis asked for unspoken prayers. We pray for all those unspoken concerns that are in the hearts of our church family.
We pray for all United Methodist Churches throughout the world, as decisions about leaving the UMC are being explored.
We pray for traveling mercies for all who are returning home from holiday weekend destinations.
As we celebrate Independence Day in our nation, we thank God for the many freedoms we enjoy. We thank all those who have served and are serving in the armed forces to protect our country.
We ask for God's blessing on the veterans at the Liberty House. It was a joy to deliver picnic baskets to the Liberty House after worship today, so that the men can enjoy a Fourth of July cookout.
Please continue to pray for the people of Ukraine and for God's hand of peace and justice on our world.
Announcements:
Alcoholics Anonymous will meet on Tuesday at 7:30 p.m. in the Fellowship Hall. All are welcome.
Bible Study will meet Thursday at 5:30 p.m., in the patio. We will be discussing Matthew 13.
Volunteers are needed to plan the Second Annual Golf Outing to benefit the Bedroom Makeover Ministry. It is scheduled for the last Saturday in August. Please see Jim, Cathy, or Robbie to volunteer.
Next Sunday after worship there will be a short Administrative Council meeting to take a formal vote to send a letter to our District Superintendent stating our intention to explore disaffiliation from the United Methodist Conference.
Have a blessed week! Brenda
​​​​​​​
Have a blessed week! Brenda