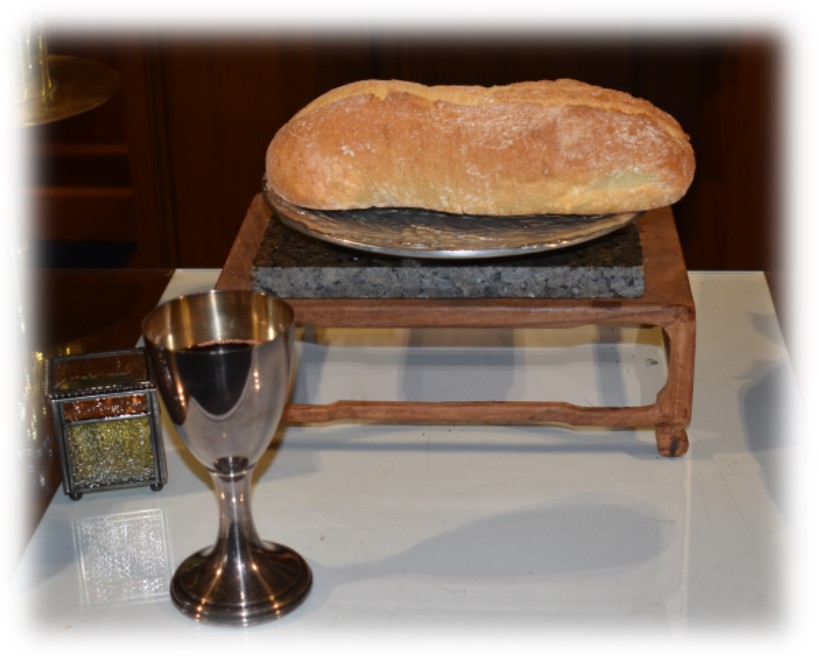 Home
Table of Grace
Church
2113 Sassafras St.
Erie, Pa. 16502
Pastor Donnie
Blystone
Sunday Service
October 3, 2021
Beginning 10:00 a.m.
See us on
Facebook
September 26, 2021
Dear Church Family,​​​​​​​
Celebration was the theme of our worship this morning as twenty-five of us gathered to worship in person at Table of Grace Church. Helen shared the announcements, led our Call to Worship, and read our scripture verses from Luke 15:23-24 and 1 Corinthians 10:31-33. From Luke's Gospel, we heard about the planned celebration for the return of the prodigal son. In 1 Corinthians, Paul wrote, "So whether you eat or drink or whatever you do, do it all for the glory of God." Larry Vollmer had prepared our message on "HOPE" today. Sadly, he was diagnosed with COVID and is in quarantine. Jim brought us a wonderful message on "Celebration". The entire worship service can be found on Facebook (search Table of Grace UMC). Send your prayer requests to
TOGprayer@gmail.com
or text/call me at 814-873-0451. We are happy to pray for you and your loved ones.
Prayer Requests:
I offered thanks and praise for Jim's excellent message and his willingness to step in to lead our worship service on very short notice. Praise God for the many gifts He has given to members of our church family.
We thank God for our golf tournament at Scenic Heights last Sunday, which added $9000.00 to our Bedroom Makeover ministry.
Thanks and praise to God for Scott's progress toward recovery. Last Thursday, I stayed with Hayden and McKenize (their school was remote for last week) while Kim took Scott to an appointment. I was able to watch him walk into the house and all the way up the stairs to the second floor. Please pray for his continued recovery.
I offered thanks and praise for Adam's good results from recent blood work. Today is Kristy and Adam's wedding anniversary!
I offered thanks and praise for our beautiful harvest display on the altar lovingly prepared by Phyllis. Next week is World Communion Sunday.
We were pleased to welcome Mark back to worship after his trip south.
Thanks and praise to God for Barb and all those participating and supporting the C.R.O.P. walk today.
Please pray for Mary Alice and Larry who both tested positive for COVID this week. Mary Alice is in quarantine in their summer home. Please pray for a quick recovery for both of them.
We look forward to hearing Larry's message on Hope at a future date.
Phyllis asked for prayers on behalf of her friend, Kristen, whose mother (Carol) is hospitalized with COVID. Please pray for Carol's protection and recovery.
Last weekend at the end of the golf tournament, Hillary suffered a sprained ankle while carting and carrying. She worked all week on a wrapped and swollen ankle. Please pray for her comfort and healing.
Please continue to pray for Donnie as he recovers from his knee surgery. We miss you!
Please pray for Renee, who is the mother of Ava's friend Christopher. She is awaiting a kidney transplant and is very weak from an infection.
Barb asked for prayers for her boss' brother's family. Please pray for God's comfort and strength for the family and friends of Boyd McLaurin who died suddenly in Mississippi.
Announcements:
Alcoholics Anonymous will meet on Tuesday evening at 7:30 p.m. in the Fellowship Hall. All are welcome!
Bible study will meet at 5:30 on Wednesday in the patio. We are discussing 2 Timothy.
Today was the C.R.O.P. Walk. It is virtual because of COVID. Please see Barb to make a donation.
If you haven't donated to the Ride for the Refuge, please see Les as soon as possible.
Have a Blessed Week, Brenda

​​​​​​​