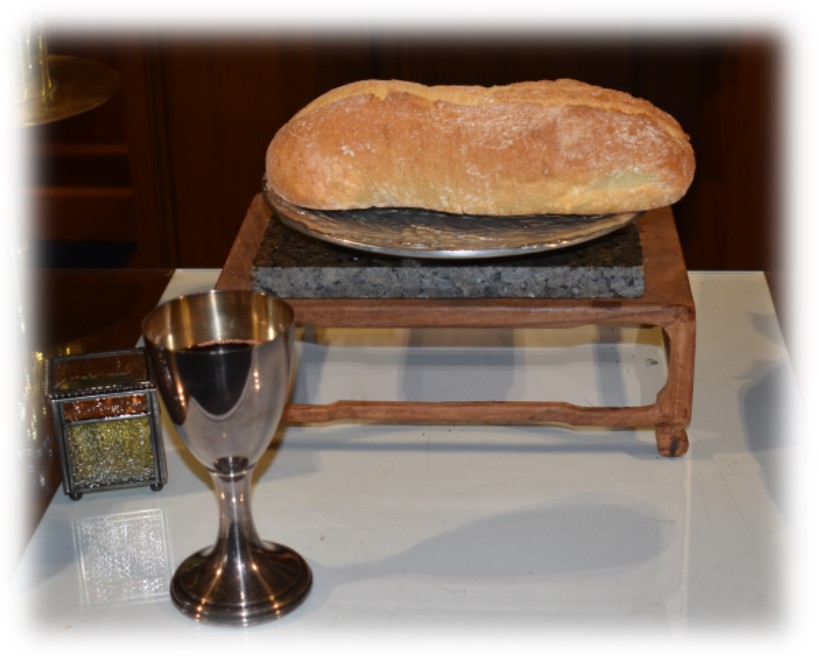 Home
Church
2113 Sassafras St.
Erie, Pa. 16502
Pastor Donnie
Blystone
Sunday Service
August 21, 2022
Beginning 10:00 a.m.
See us on
Facebook
August 14, 2022
Dear Church Family,​​​​​​​
On this beautiful August morning, twenty-eight of us gathered to worship at Table of Grace. Larry shared the announcements, led our Call to Worship, and read our scripture passage from Psalm 16:5-11. During the Children's Chat, Helen talked to the children about Jesus' miracles and showed them the amazing metamorphosis from egg to butterfly. The children were fascinated by the live samples of each stage that Helen provided. At the end of the service, they released a butterfly into the back garden. Donnie continued his sermon series on trusting God, and how much better our lives can be when we put our faith and confidence in him. Today he talked about how our impatience can interfere with that relationship. The entire worship service can be viewed on Facebook, by searching Table of Grace UMC and scrolling down to the video for August 14. Please remember that you can send your prayer requests to
TOGprayer@gmail.com
or contact me at 814-873-0451. We are happy to pray for you and your loved ones.
Prayer Requests:
I thanked Donnie for his excellent message. We thank and praise God for his gift of teaching.
Please continue to pray for our friend, Pat Ritenour. Her hip surgery was successful, however, she is bleeding profusely from her incision and needing transfusions. There is currently a shortage of blood platelets.
The Wood and Irwin families ask for your prayers for Anita, who will have surgery tomorrow. We pray for God's healing and protection for all who are hospitalized.
Cathy asked for prayers of comfort for the family of Teddy Amendola who passed away this week.
Please pray for Les, who is experiencing extreme hip pain. He is still planning to participate in the Ride for the Refuge. (See announcement below).
Please pray for Katie, who is still feeling poorly.
Mark asked for prayers for good results from his eye exam on Friday.
Please pray for good test results for Rick on Thursday.
Please include all unspoken requests in your prayers, especially for those facing medical procedures and needing answers to health issues.
Please pray for the ministries of Table of Grace, especially for our golf outing to raise money for Bedroom Makeovers.
Hillary offered thanks and praise that her friend, Denise's daughter, was not injured in a car accident that badly damaged her car. The other driver also escaped injury.
Barb offered thanks and praise for safe travel and a wonderful vacation in California. She asked for traveling mercies for all.
Please continue to pray for God's peace in our world, especially for the people of Ukraine.
Announcements:
Approximately fifty people from area churches attended the meeting with the Bishop this afternoon about disaffiliation. She spoke about the theology of diversity, covered the financial obligations for disaffiliation, and answered numerous questions.
Alcoholics Anonymous will meet on Tuesday evening at 7:30 p.m. in the Fellowship Hall. All are welcome.
Bible Study will meet on Thursday at 5:30 in the patio. We will be discussing Matthew 23 and 24.
Our second annual Golf Outing to benefit the Bedroom Makeover ministry will be held on Sunday, August 28, at 2:00 p.m. at Scenic Heights Golf Course. On Saturday, we enjoyed a delicious breakfast made by Phyllis and then canvased area businesses for hole sponsorships and auction baskets. WE NEED GOLFERS! Please encourage any golfers that you know to participate.
Les and Violet are participating in this year's Ride for the Refuge on Labor Day, September 5. He asked me to remind everyone that he and Violet match whatever donations they collect. Donations last year were down by almost 50% of the goal. The Refuge really depends on the Labor Day event for their budget in helping homeless families.​​​​​​​
Have a blessed week! Brenda