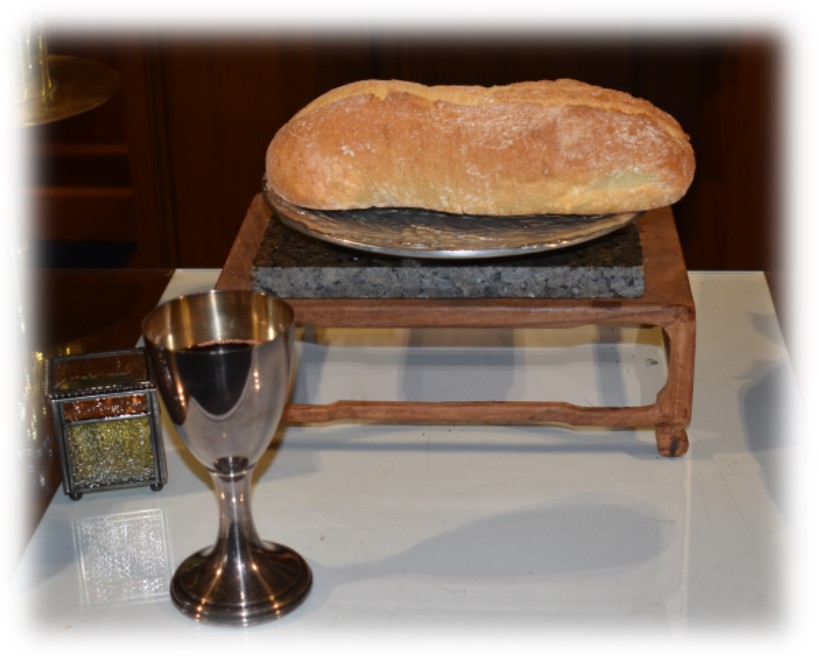 Home
Church
2113 Sassafras St.
Erie, Pa. 16502
Pastor Donnie
Blystone
Sunday Service
September 25, 2022
Beginning 10:00 a.m.
See us on
Facebook
September 18, 2022
Dear Church Family,​​​​​​​
On this lovely September morning, twenty-seven of us gathered to worship in person at Table of Grace. Rick shared the announcements, led our Call to Worship, and read scripture verses from Joshua 6:1-5. This passage tells of God directing Joshua to march around the walls of Jericho to take over the city. "When you hear the priests give one long blast on the rams' horns, have all the people shout as loud as they can. Then the walls of the town will collapse and the people (the Israelites) can charge straight into the town." (v. 5). During the Children's message, Donnie told the kids that sometimes we must go through long and difficult periods of learning something new. It's not fun at the time, but it makes our lives better in the long run. He continued his sermon series on breaking down walls that hinder our relationship with God, reviewing his two main points from last week: Be honest about the walls in our lives; Don't be surprised when God uses unexpected people to help us break down walls. Today he talked about the process of breaking down walls and obedience to God's will. The entire worship service can be viewed on Facebook, by searching Table of Grace UMC and scrolling down to the video for September 18. Please remember that you can send your prayer requests to
TOGprayer@gmail.com
or contact me at 814-873-0451. We are happy to pray for you and your loved ones.
Prayer Requests:
I thanked Donnie for a heartfelt message and for always making us think about and evaluate our obedience to God's will.
Please continue to pray for Scott, who came home from the hospital on Friday. He is very weak and having mixed results with new equipment.
Please pray for Kelsey, who will undergo another back surgery in Pittsburgh tomorrow. Please pray for her medical team, for her protection, and for healing and recovery.
Please continue to pray for Les and Violet. Les is struggling with hip pain and Violet is recovering from COVID. Les asked me to announce that Table of Grace raised $630.00 for the Ride for the Refuge. That amount contributed to a total of $15,000.00 collected toward EUMA's goal of $20,000.00.
Please pray for God's comfort for the family of Vincent Bartosek. He was the husband of John's step-niece. The Nelson family has suffered the loss of more than one family member recently.
Nancy asked for prayers for her friends, Dave and Sue Bicko, who lead the Yellow Line Ministry. This music ministry for those in prison launched its fall tour in Florida today. We pray for the love of Jesus to reach many who are in need through their outreach.
Nate has been unable to worship with us the last few weeks, but he sends greetings to the church family at Table of Grace.
Mary Alice and I are so thankful for the children who attended Sunday School this morning. It was such a joy to return to "in-person" Sunday School with the children. We are thankful to God for leading us to the "Simply Loved" curriculum, which brings God's message in a variety of fun activities.
We are thankful for Ann's music ministry this morning. It was so good to see (and hear) her! We continue to pray for Cheryl's recovery.
Thanks and praise for Phyllis's work in decorating the altar table. We all enjoyed the beautiful fall arrangements.
It was good to have Katie back with us this morning. We are thankful for her work in setting us the after-worship hospitality.
We are grateful to celebrate birthdays. Happy Birthday to our granddaughter, Samantha on Wednesday, and our granddaughter, Ali, next Sunday!
Please continue to pray for God's peace in our world, particularly for the people of Ukraine.
Announcements:
Alcoholics Anonymous will meet on Tuesday at 7:30 p.m., in the Fellowship Hall. All are welcome.
Next Sunday, September 25, we will celebrate our Local Heroes, in remembrance of 9/11. We are in need of cookie donations to send to the Fire Stations following the blessing of the fleet (firetrucks and emergency vehicles). Please contact Phyllis if you are able to help.
Next Sunday is also the C.R.O.P. walk. Please see Barb to donate.
On October 2, we will be receiving new members during the worship service. If you are interested in becoming a voting member of Table of Grace, please contact Donnie.
On October 16, immediately following worship, our district superintendent Dennis Swineford will be here for the first vote on disaffiliation. Members must be present to vote. Anyone who is present and voting needs to know that an abstention counts as a "NO" vote.
Have a blessed week! Brenda
​​​​​​​