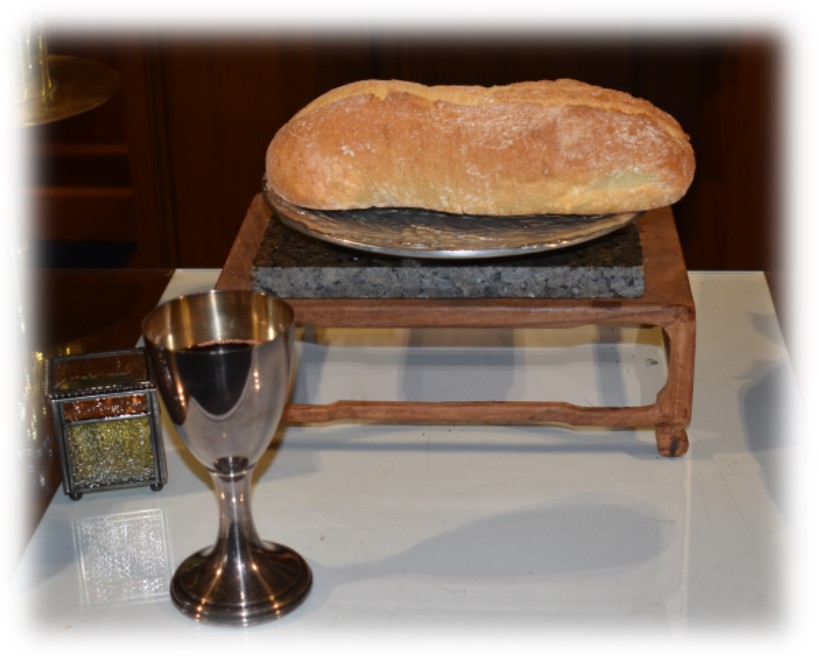 Home
Table of Grace
Church
2113 Sassafras St.
Erie, Pa. 16502
Pastor Donnie
Blystone
Sunday Service
June 20, 2021
Beginning 10:00 a.m.
See us on
Facebook
June 13, 2021
Dear Church Family,
On this beautiful mid-June morning, thirty-three of us worshipped in-person at Table of Grace. It was a joy to welcome back Kim, Hayden and McKenize, Tom and Janet, and Sandy and John to in-person worship. It was a blessing to have our granddaughter, Ali, and our great-granddaughter Alaina with us this morning, along with Kim's friends and their children. Sam shared our announcements, led our call to worship, and read our scripture verses from Acts 2:42-47. He also invited us to recite the Apostles Creed. Donnie continued to speak with us on the theme of encountering God, recalling his previous messages on encounters through prayer, scripture, dreams and visions. Today he spoke to us about encountering God through community with other believers. You can worship with us remotely on Facebook (search Table of Grace Church)sermon.
Please remember that you can share your prayer requests by emailing
TOGprayer@gmail.com
, or contact me at 814-873-0451.
Prayer Requests:
It was a roller coaster week for Scott in Pittsburgh. He made very encouraging progress, then his lung collapsed at the end of the week. Kim continues to be optimistic. Scott is able to communicate and FaceTime with the children. They are giving him maximum oxygen in hopes that his lung will reinflate. He is asking for food and he wants to come home. He has a very long road ahead. Thank you for keeping him in your prayers. God is good!
Kim and the children will travel to Pittsburgh tomorrow. Please pray for a good report for Hayden as he has a check-up with a specialist there.
Our family asks for your prayers for our dear friend, Walter, who has been at UPMC Hamot since Wednesday. He has fluid in both lungs due to his A-fib, and the doctors are trying a couple of approaches to treatment. He is very weak and in need of our prayers for God's comfort and healing.
Please continue to pray for Mary Alice, who is working very hard to regain movement following knee replacement surgery. Please pray for comfort, strength and healing for her.
Cathy is asking for special prayers for her friend having a lengthy and potentially dangerous brain surgery. We have prayed for this young man who has been through multiple lesser brain surgeries in preparation for this major one. An expected outcome of the surgery is loss of his field of vision. Please pray for God's protection for him and that impacts on his vision will be minimal.
We thank you for continued prayers for healing and recovery for our son-in-law, Adam. His recent blood results show slight improvements. He has an appointment with his gastro-intestinal specialist tomorrow.
We lift up all of our church family and friends who are in a season of grief. Please pray for God's comfort and peace for the family of Bob. He was the grandfather of Hillary, Jarad, and Robbie. Please keep their grandmother and loved ones in prayer.
Please continue to pray for Angie's friend, Becky, and her family. Becky and her husband lost two children and their daughter's fiance in a devastating house fire last week. Please pray for safe travel for Angie, Samantha, and Julian, who will travel to Ohio today for the funerals. May they feel God's presence in their time of brokeness and loss.
Larry asks for your prayers for three of his friends who are lost in addiction (Erin, Jon, and Mike). Please pray for God's presence and strength for all who are battling addiction and for those who reach out to them in Jesus' name.
Barb asks for continued prayers of healing and comfort for her friend, who had a very lengthy surgery to remove a bowel obstruction.
Please remember to lift up all prayers that remain unspoken in the hearts of our loved ones.
Donnie asked for prayers for all pastors and their families who are transitioning to new appointments. We pray that God will be present with them, building new relationships and helping them to engage in the work of His Kingdom.
Announcements:
Alcoholics Anonymous will meet Tuesday evening at 7:30 in the Fellowship Hall. All are welcome.
Bible Study will meet Wednesday at 5:30 p.m. in the patio. We will begin 1 Thessalonians 5.
The 25th annual golf tournament for the Refuge will be held on Monday, June 21, at Riverside Golf Course in Cambridge Springs. Registration is at noon. For more information go to the EUMA website and click on News and Events.
​​​​​​​